Services
With our certified and skilled technicians you'll have a spotless kitchen and never have a violation again. We'll be there ON TIME and leave your commercial kitchen clean, repaired and safe from fires.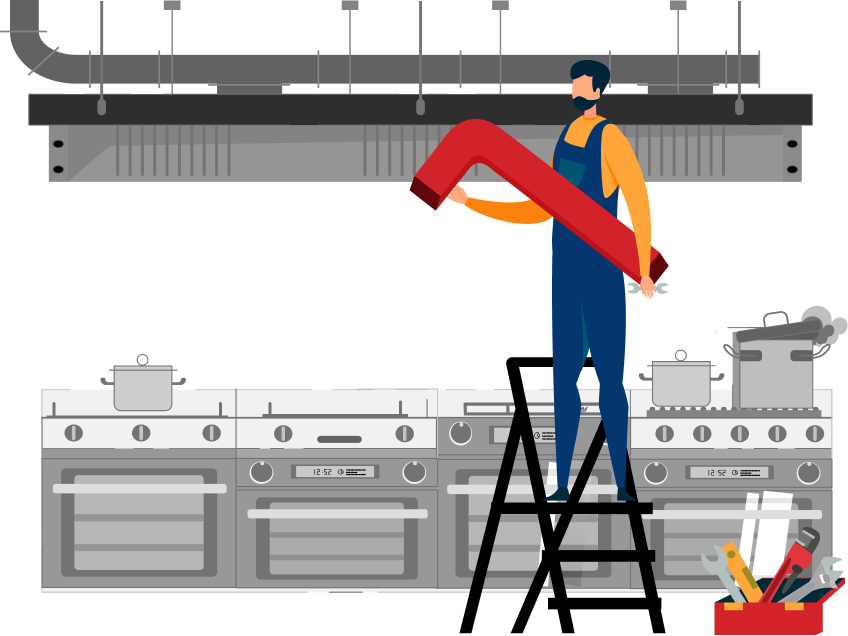 Kitchen Hood cleaning
Repairs
Fire Suppression Systems
Violation Removal
Portable Fire Extinguishers
New Hood Installations
We're licensed by the FDNY and have cleaned every type of hood, duct and fan to prevent grease build-up and fires. Be assured that that your hood complies to the FDNY code and NFPA code 96, and you won't get fines and violations.

We care for your system, and clean it entirely, including:


Hoods
Ducts
Access doors
Fans
Dampers

Precipitator

We are licensed and well trained to install, clean and maintain your precipitator. Contact us for a free consultation and will be there to service you.

The secret to a smoothly run, airy kitchen is resilient hood and duct systems. If something breaks down, contact us immediately and we'll be there On-time. We repair complete hood, duct and fan systems quickly and smoothly so you can continue your work.

Have your fire suppression system inspected the right way with our certified technicians. Our team is highly trained to ensure your fire suppression system is legitimately protecting your kitchen, and we'll be on top of it- every 6 months. We inspect and maintain your system for your fire safety.

Adding equipment?

We guide and advise throughout the process until its completion. We install and repair fire suppression systems so that you can pass inspection and be confident in your secure protection.

If you received a violation because:

The hood and duct cleaning wasn't done right
Your fire suppression system wasn't up to code
The fire extinguishers weren't up to code

On-time is the way to go! We come down and get to the root of the problem, cleaning and repairing what's necessary.

Contact us today and we'll clear it up for you quickly and efficiently so that you have your kitchen up and running in no time.

Getting all your fire extinguisher needs attended to, can be time consuming. At On Time hood-cleaning we are certified and authorized by the FDNY to install and inspect all kinds of portable fire extinguishers.

Setting up a new kitchen? Take a deep breath. We have everything down pat to install your new hood. Whether it's filing, permits, hood installation or fire suppression system, it's all on our shoulders! Fuggedaboutit. Consider it done.
You deserve a clean, airy and violation-free kitchen